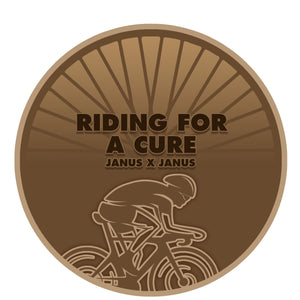 Ride for a Cure - Janus x Janus
Regular price
$15.00
$0.00
The Coffee for a Cause has a new blend - Ride for a Cure!!
We are approached fairly regularly with collaborative opportunities, we turn down more than we take.  Why?  Because it has to feel good to us, feel like a fit for our beliefs.  When we are approached by Ryan Janus about a collaboration for great cause - Roswell Park.  Never heard of Roswell Park?  Please read the description of Ride for a Cause and Roswell Park.
Cancer affects nearly every American - self, family or friend.  When we learned about Roswell Park and Ride for a Cause, we were in 100%.  Proceeds go to Roswell Park.
So, what is this blend Ride for a Cause?  It is a 2 bean blend that is roasted medium/dark.  Dark Chocolate, caramel, sugar cane sweetness are all in the flavor profile.  Heavy body and drinks smooth with little acidity.  This one is a keeper for a great cause!  
**The Ride for Roswell is the single largest fundraising event in Western New York and the state's largest single-day cycling fundraiser. Since 1996, riders and volunteers have raised more than $63 million for cancer research and patient care programs at Roswell Park. The funds raised through the Ride for Roswell continue to help Roswell Park researchers investigate new treatment options; facilitate clinical trials for both common and rare types of cancers; support the costs of important medical testing not covered by insurance; and make possible quality of life programs that assist with non-medical needs from transportation to wigs to spiritual care and more.

Roswell Park has a long history of cancer care. Founded in 1898 as the nation's first cancer research center, Roswell Park grew from the vision of Dr. Roswell Park. Today, Roswell Park is ranked as a best cancer hospital in the nation by U.S. News and World Report. Research at Roswell Park has led to historic breakthroughs in the way we understand, prevent and cure cancer.
Light - Roasted to our lightest level. Usually before first cracks end. Called a Half City Roast.
Medium/Light - Roasted to first crack. Called a City Roast.
Medium - Roasted after first cracks before well before second crack. Called a City+ Roast.
Medium/Dark - Roasted to the start of second cracks.
Dark - Roasted from the start of second cracks to 15 seconds into second cracks.
Very Dark - Roasted beyond 15 seconds into second cracks.
---
Share this Product
---
More from this collection